PRIVATE EVENTS & PARTIES
Revive Coffee & Wine strives to create a family friendly environment while simultaneously serving premium coffee, food, craft beer and wine for our guests to enjoy. In addition to our cabin style coffee and wine atmosphere, we are blessed with landscaped grounds to host events where magical moments can be experienced by our guests. Our outdoor garden is the perfect setting for any event from casual to elegant. Our side yard is large enough to host your event under a tent.
The following are some of the functions that Revive will host:
Weddings & Receptions, Rehearsal Dinners, Birthday Parties, Anniversary Parties, Business & Corporate Functions, etc. We do not limit our functions to those listed here. If you'd like to present a unique concept for your event, please contact our Private Event Director.
BY PHONE
Prefer to make your reservation for a private event via phone? You can make reservations by calling (530) 600-4007 between 7am and 4pm.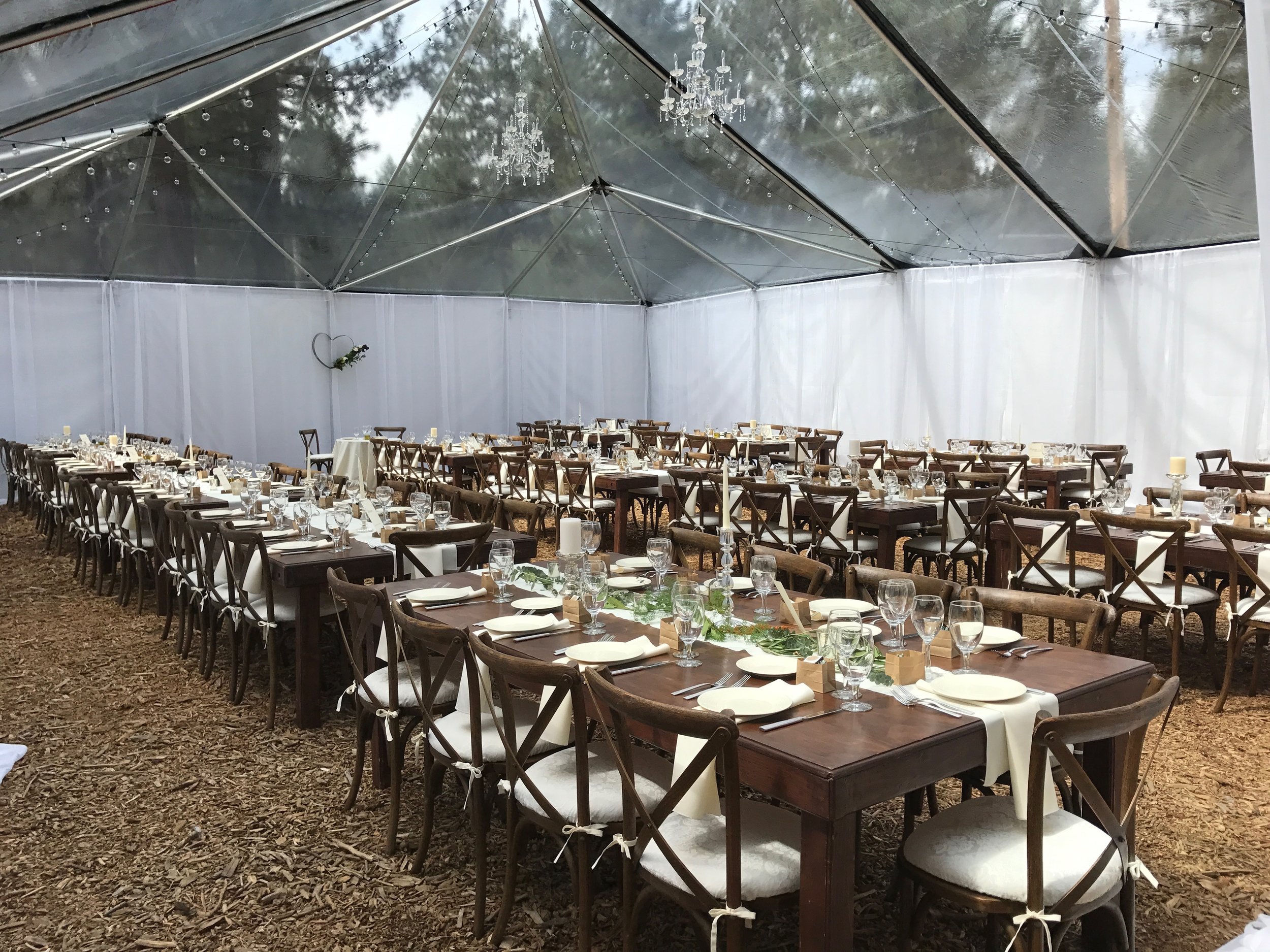 Outdoor Garden
Seats up to 100
Bring your event to life in Revive's Back Garden, located in the heart of South Lake Tahoe. Our back garden lends itself to private events, particularly during the warmer months and makes for a beautiful outdoor wedding, party or celebration of any kind. The entire Revive Garden, or a portion thereof, is available to rent seven days a week from 9:00 AM - 10:00 PM. The ambiance in the garden is tranquil and surrounded by nature making it wonderful for pictures as well as for entertainment. We're proud to have hosted a number of private events in our Revive Outdoor Garden.
REVIVE MAIN ROOM
Seats up to 30
The indoor Main Room at Revive features a rustic bar, cozy fireplace and the interior pays tribute to South Lake Tahoe's storied past in a warm and inviting atmosphere. Revive's Main Room is perfect for an intimate party or celebration. During peak summer and winter seasons, the Revive Main Room is only available during specific hours.
Full Facility
Seats up to 150
Inspiring event space, welcoming up to 150, is a given at this stunning midtown South Lake Tahoe location. Dine under a clear top tent with seating for up to 150 and enjoy dancing beneath the stars.
Revive's spacious grounds combine for a spectacular event venue. From weddings to birthday parties. Revive's event team can assist with planning your event, a catered menu, specialty coffee drinks, wine, craft beer, entertainment, decorating, audio equipment and more.
Email info@revivecoffeewine.com to reserve a date for your reception, party or private event.
Need local accommodations? Consider Hotel Azure or Tahoe Beach Retreat located within one block of our venue. Book your event with us and receive a discount code exclusively for you and your guests.